Ever since the regime recovered large swaths of territory in 2018, dozens of NGO's have begun the process of applying for permits and permissions to enter the areas under government control. However, Western donors are still reluctant to fund NGOs in the regions controlled by the regime. Since last year, an increasing number of international NGOs have sought to register in Damascus in order to work in the territories under the government's control.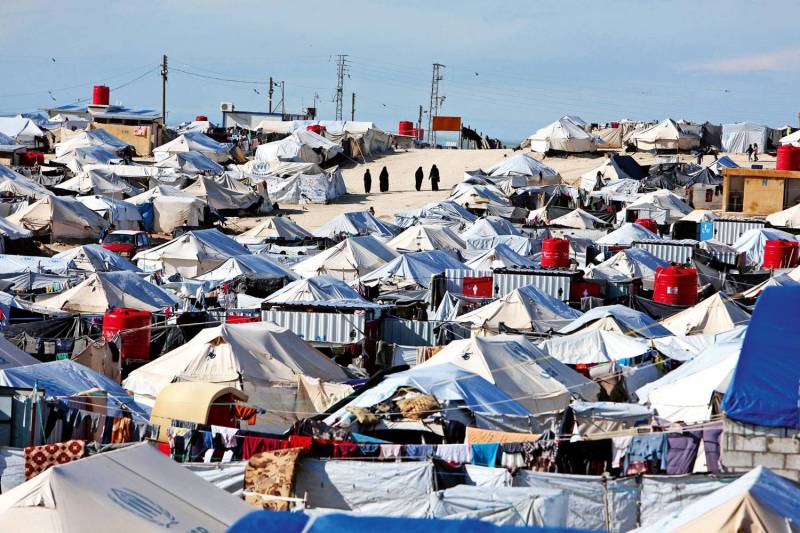 Since 2012, most of these NGOs have been working on a "cross-border" basis in opposition-controlled areas, and have been providing humanitarian aid through Turkey, Iraq, Jordan, and Lebanon under UN Resolution 2165, which is renewed every year.
But since the Syrian army's victories in eastern Ghouta and southern Syria in 2018, the situation has changed drastically. "Nearly 50 NGOs are trying to register with the Syrian Foreign Ministry," says an advocacy officer at a leading foreign NGO that is active in Damascus.
"We have no choice, the areas controlled by the regime are now in the majority, and the needs there are considerable," says the head of an NGO that has begun the administrative process of getting registered.
Working conditions have become more complicated in Idlib ever since jihadist group Hayat Tahrir el-Sham eliminated all its rivals in the area this January. Things have become even more complicated in the north-east, which is under the control of the Syrian Democratic Forces (SDF), the prospect of the US troop withdrawal is of great concern and the SDF fears an assault by regime forces or even the Turkish army.
"The reasoning is that we should above all ensure the maintenance of the services provided to the population in the event that there is a change in the balance of power in the areas still under opposition control," explained a humanitarian official from an NGO active in northeastern Syria.
Change of direction
For Damascus, this change of direction by international NGOs is good news. "In 2018, more than $1 billion were transferred as part of humanitarian assistance to Syria, which is about a quarter of the Syrian budget," said Jihad Yazigi, editor of Syria Report, a website focused on business and economics in Syria.
Humanitarian aid for Syria is increasing: in March 2019, a third call for funds conference in Brussels raised $ 6.97 billion – compared to $ 4.4 billion in 2018 - of which about $ 2 billion could be spent inside Syria.
The promised aid is less than the UN's estimate of the $ 9 billion needed for the year, but it exceeds the expectations of Syrians who were worried about a decline in foreign aid. "Entire sectors of the economy operate thanks to humanitarian aid: international NGOs and UN agencies provide a lot of local jobs and offer a lot of subcontracting to Syrian companies," said Yazigi.
Segments of the economy that are not subjected to sanctions - such as transport, agribusiness, hotels, and pharmaceuticals - survive by relying on international humanitarian aid.
Damascus, the master of the game
Meanwhile, Syrian authorities do not seem in a hurry to register new foreign NGOs. Some 30 organizations - including many small, low-profile NGOs - have been given the green light by Damascus since 2011, but new registrations come at a trickle.
"Damascus is the master of the game and can impose its rules, especially since there is no law governing the registration of international NGOs.
A project was launched to organize the sector in 2009, but it never took off", explains one expert on the system. The Syrian regime requires that NGOs seeking to register in the country cease operations in areas outside its sovereignty.
"Some organizations have had to scale down their operations in the north to show goodwill in the negotiating process with the regime," said a member of a humanitarian organization.
In 2014, American NGO Mercy Corps, which wanted to work in both cross-border areas and in Damascus was suddenly given three weeks to leave Syria. Only one NGO, the Norwegian Refugee Council, has so far been able to work in every territory in the country.
To register in Damascus, NGOs must go through two intermediaries: The Syrian Red Crescent (SARC) and the Syria Trust organization, founded by First Lady Asma al-Assad, bearing in mind that Mrs. Assad herself is subject to sanctions.
"Most of the NGOs registered in Damascus have signed a memorandum of understanding with the Syrian Red Crescent, then bilateral partnerships with ministries," says Valentine Adolphe, head of the Syrian crisis response at French NGO Première Urgence Internationale.
In rare cases, some NGOs have reached direct agreements with a ministry, such as Oxfam with the Ministry of Water Resources.
Only two ministries are fully subjected to sanctions: the Ministries of Defense and Foreign Affairs. "There is fierce competition between the Syrian Red Crescent and the ministries to capture foreign humanitarian aid," said Yazigi.
As it finds itself in a position of strength, the Syrian regime is trying to direct aid. "The authorities encourage us to act primarily in [a] certain area or areas, but we only accept about 40% of their suggestions regarding projects," notes an employee of an international NGO based in Damascus.
The government may also restrict the NGO's access to certain areas because they are not a priority for the regime: this has been regularly the case in Eastern Ghouta, near Damascus.
Moreover, foreign NGOs can only work with local associations that are registered with the Syrian authorities. Yet these difficult conditions, added to the difficulty of transferring money to Syria, have not deterred the majority of international organizations.
Mistrust among donors
Meanwhile, Western donors remain reluctant to fund projects in areas under the regime's control. "European governments are currently giving support to UN agencies based in Damascus, but international NGOs often have better access to the most vulnerable communities," says Matthew Hemsley, policy and communications advisor for Oxfam on Syria.
"The United States, Germany and France have the toughest positions, while Nordic countries, Italy and Canada adopt a more flexible approach," says a humanitarian official from an NGO that has been registered in Damascus for five years.
There have been delays in delivering the $50 million in humanitarian aid allocated to Syria by French President Emmanuel Macron in April 2018, for example, only one project worth less than one million euros, was awarded to an NGO active in a government controlled area, in Tal Rifaat, near Aleppo.
"Donor countries fund mostly emergency humanitarian aid in government controlled areas, but in the fields of protection and education - where the needs are enormous - international NGOs could play a major role", argues Mahieddine Khelladi, Executive Director of French Islamic Relief (SIF), who obtained funding from the French Ministry of Foreign Affairs.
"Western donors are concerned that humanitarian aid can contribute to reconstruction. This is a red line until the regime begins a process of political transition. With respect to this issue, there is nothing new as far as the Western countries are concerned."
This article was originally published in French