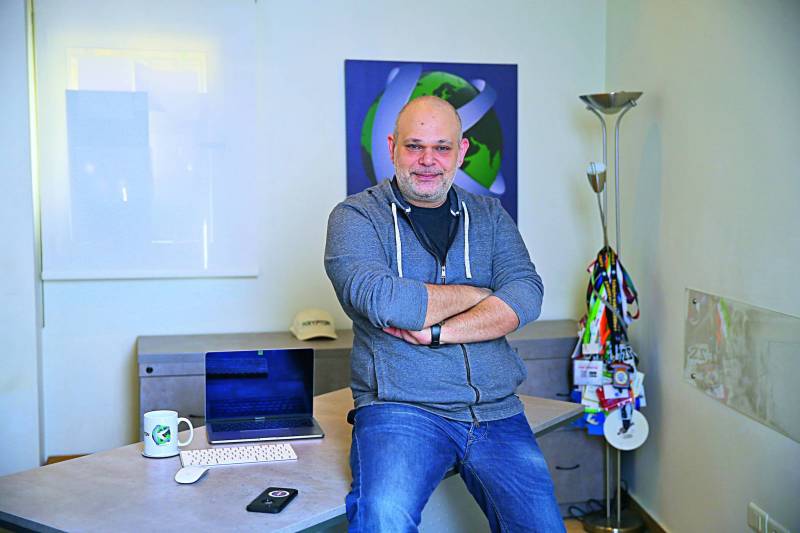 Khalil Sehnaoui, who has been accused of being behind "the biggest electronic hacking operation in the history of Lebanon," as Al-Akhbar newspaper put it, professes his innocence. While he has willingly accepted the label of "hacker", he distinguishes himself as a "white hat", or an ethical hacker, as opposed to a "black hat", the more malicious type of hackers.

Sehnaoui was accused of hacking and stealing confidential information from several ministerial and administrative websites, but his case was dismissed by a civil court. He is now awaiting the verdict of the military court, with his hearing scheduled for October, but in the meantime Khalil Sehnaoui is not sitting idly by.
One part hacker, one part consultant
In 2018, Sehnaoui's cybersecurity consulting firm, Krypton Security, which he co-founded in 2012, achieved a turnover of $ 2.5 million, with nearly half of his profits coming from operations in Lebanon, and the rest from Jordan and Gulf countries. He is recognized today as one of the only cybersecurity specialists in the region to have a foothold in the global hacker community. The now 44 Lebanese-Belgian, however, came late to all this.
As a teenager, Sehnaoui was passionate about computers and the early Internet. "It was the age of minitel, Atari and Amiga game consoles, the first chat forums," he recalls. But his university studies in management and economics at Saint Joseph University forced him to temporarily give up his passion.

He then worked for several years in risk management at his family-owned bank, SGBL. He also launched Total Care Lebanon, a medical portfolio manager, in partnership with his cousin, former Telecommunications Minister, Nicolas Sehnaoui.
Career change
But the hacker inside him felt trapped. "I lost interest, I was not fulfilled," says Khalil Sehnaoui. At the age of 35, he made a radical career change. He swapped his suit and tie for a hoodie and a Che Guevara cap, then flew to Defcon, the largest annual meeting for hackers in Las Vegas. The cyber enthusiast has since developed strong ties with the hacking community, including the Chaos Computer Club, one of the most influential hacker organizations in Europe.
His peers are often much younger - the average age of British cyber criminals, according to the National Crime Agency, is, for example, 17 - but this disparity in age has not been a problem for him. "I have friends of all ages, we have the same references, have read more or less the same books, seen the same movies," he explains, surrounded by a replica of R2-D2 from Star Wars and a large format print of the "Hacker Manifesto", one of the founding texts of the hacker counterculture.
In 2012, he capitalized on this relationship to co-found his consulting company with former IBM employee Cyrus Salesse. "This was pretty new in the Middle East," says Sehnaoui. There are now more competitors, but Krypton Security continues to be one of the only companies to rely on external hacking partners. "Who better to test the security of your home than a professional thief?" Sehnaoui jokes.