The crisis is forcing many Lebanese to sell their jewelry and gold for "real" dollars. Caption: Gold accounted for 32% of Lebanese exports in the first quarter of 2020.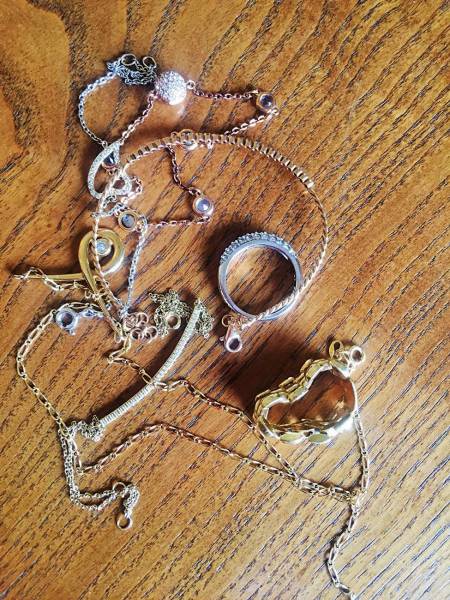 In Abu Tarek's jewelry store, at the entrance of the "souk of goldsmiths" in Beirut's Barbir neighborhood, women scramble to sell their jewelry in exchange for what they think is much rarer and more precious than gold: real dollars. Social distancing, which should be respected out of fear of a new spike in coronavirus cases, seems far from the concerns of these clients.
"I am selling my bracelet to pay my credit to Al-Qard Al-Hassan," lamented Racha, a housewife who borrowed money to support her family while waiting for her husband to find a job. Now, she has to meet her installment deadlines with the Islamic lending association. (The first names of all interviewees were changed at their request).
There is nothing exceptional about Racha's story. It is the case of almost all those who for the past few months have been walking through the door of Abu Tarek's jewelry store. "Every time someone comes into my shop, I hear the same terrible story: a family living in precarious conditions... A sick relative who needs expensive care... Then the debts accumulate and the wife, daughter or sister is forced to selling her jewelry so that her family survives...," said the shop owner.
Although the sale of jewelry is traditionally a "women's business," some men are also beginning to brave their embarrassment of selling the jewelry of the women in their family. This is the case of the young Malik, in his twenties, who is about to give up one of his mother's necklaces so that he can repair his car."The price of the spare part I need is in dollars; I have no other way to find dollars," he sighed shyly.
"In the region's societies, especially those with poorly developed financial markets, jewelry is a form of savings, a safe haven that is used in difficult times," said Wassim Shahin, president of the Middle Eastern Economic Association (MEEA) and dean of the School of Business at the Lebanese-American University (LAU).
Sales rise Jewelers in this Barbir neighborhood popular souk are used to buying and selling. But the number of transactions, "in sharp increase since the end of last year," is, for them, a sign of the population's rapid and violent impoverishment. "I have seen women come to sell their wedding rings to pay for their children's third schooling semester. For me, this has never been seen before!" said one of the jewelers.
"You do not have to look for a pretext to understand what motivates sellers: unlike gold, dollars feed children. And too bad for the sentimental value!" added another. All these small shops offer an immediate payment in "real" dollars, at the black market exchange rate, currently around 9,000 Lebanese pounds per dollar, according to Lebaneselira.org.
Some shops even offer to come and assess the pieces at home. This is the case of Saleh Jewelry, based in Rabieh, who did not hesitate to buy advertising space on Facebook to promote his "delivery" service. "Previously, we used to collect about 20 grams of gold a day. But since the start of the crisis, we have been buying about 300 grams per day at $37-38 per gram," explained the store manager.
He then sells his purchases, at around $40 a gram, to precious metals traders, who sell the pieces abroad. This is especially the case since the yellow metal's price is rising sharply, galvanized by the global Covid-19 pandemic. Gold Prices on the Rise Gold reached a new high in mid-April at $1,775 per ounce, before falling slightly. On July 2, it was trading at $1,772, an increase of 16.7% since January 1 and 26.2% year-on-year.
Taken together, the local crisis and rising world prices explain why gold exports have increased by 11% this year. According to customs figures, gold accounted for 32% (LL442 billion) of total exports in the first quarter of 2020, while the yellow metal totaled only 21% (LL270 billion) of exports in the same period in 2019.