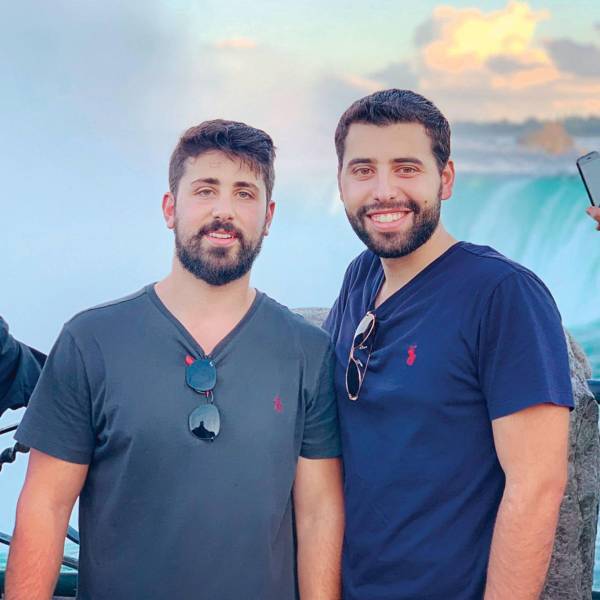 For more than a year now it has been possible to book a driver online in Beirut to take you to Damascus. The idea, inspired by the success of Uber, was launched by two young Syrians: Omar al-Sakkah and Amr Kahhaleh.

Their story begins in 2017 when al-Sakkah, 25, was studying business in Beirut.
Every week he would travel back to Damascus to visit his family, a trip that takes at least three hours. It was always a hassle finding a car that was in good condition, available to leave when he wanted to and that had a reliable driver – something especially important in these times of war. Facing these problems, al-Sakkah began to dream of an Uber-like ride hailing service that could connect drivers and travelers.

3,000 passengers regularly cross the border
Alone, al-Sakkah didn't have the technical knowhow to turn his dream platform into reality. That's where Amr Kahhaleh entered the picture. With this idea in mind, al-Sakkah decided to conduct a market study. According to his calculations, 3,000 passengers, often students, cross the border between the two countries by taxi or shared taxi – called service – every day. The average trip costs $30, meaning that a cross-border Uber-like startup could tap into a potential market of $75,000 per day.

At 26, he had been living in the United States since 2011, where he graduated with a degree in computer science and then landed what he calls a "dream job" as a software engineer at Apple.
With just $5,000 of their own money, the co-founders launched LiBeiroot in 2017. The start-up allows users to book private vehicles or to reserve seats in shared services through its website and mobile app .
A Beirut-Damascus trip costs between $10 and $50, and payment is made directly to the driver. LiBeiroot gets 15% of each trip that is booked through its platforms.
A new mail service
International sanctions placed on Syria's banking system since the beginning of the 2011 conflict and the fact that only small number of Syrians use credit cards pose challenges when it comes to online payment. So transactions are done exclusively in cash, and the money in collected by the start-up's team in Beirut and Damascus.

Around 30 drivers LiBeiroot's founders say that the start-up is already making a profit.
Although they won't disclose how many customers use their website and app, Kahhaleh and al-Sakkah are growing the company with the revenue they are bringing in.
In April, they added a mail service called Postaji to LiBeiroot's repertoire of services. Users can send documents, go shopping and deliver small packages without having to cross the Lebanese-Syrian border.
"Postaji is a real success. It works as well as the car travel services," Kahhaleh tells Le Commerce du Levant.
Today, LiBeiroot works with thirty drivers, all of them Syrian nationals. "It is true that working in Syria poses a certain number of problems," Kahhaleh says. "First, there is the infrastructure and the weakness of the internet network. So we had to reduce the functionality of the application to a minimum.
But above all, the Lebanese-Syrian border is a place where the regulations are constantly changing." "Eventually, we want to expand our services to other cities in the region such as Tripoli, Homs, Aleppo, Latakia and Amman," he adds.