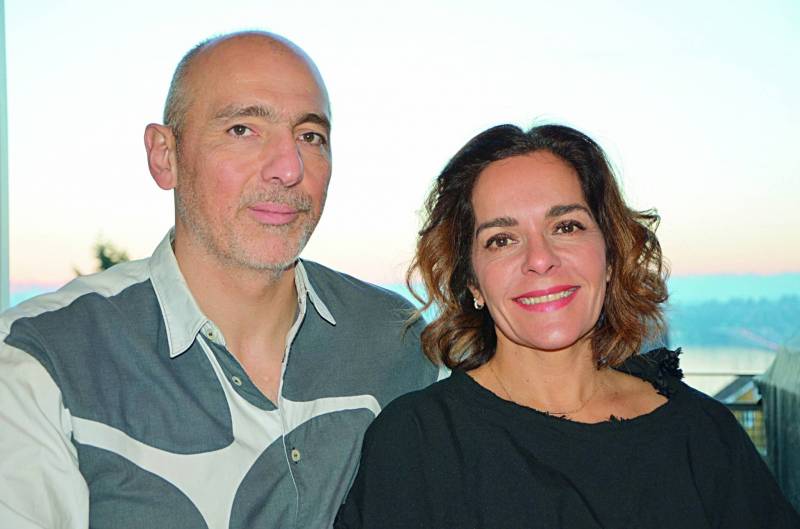 Wassef and Racha Haroun have reinvented themselves, revolutionizing the world with their hands lathered in olive oil and their noses finely tuned to the delicate scents of mouneh, Lebanon's traditional preserves.
Together, the couple runs Mamnoon, an award-winning Middle Eastern restaurant in Seattle, and manages Mama Restaurant Group, a consortium of eateries reimagining classic Arab cuisine.
The fusion-loving duo was visiting Beirut few months ago with their team. "We wanted to give them a cultural experience," says Wassef.
The trip was important because the restaurateurs insist on reproducing the traditional hospitality of the Levant and the authentic flavors of its food in their establishments across the Atlantic.
While in Lebanon, Wassef and Racha took over the kitchen at Massaya Winery in Fakra to offer a unique culinary evening, dazzling their guests with their renditions of familiar dishes.
"They are respectful of tradition, attentive to the tastes that they yet constantly seek to enhance," says Joe Saadé, owner of Terre Joie. winery in the Bekaa Valley, who attended the dinner and has been following the couple's cooking for several years. "They innovate. This is the path Levantine cuisine should take to climb higher. "
Wassef and Racha's approach to food is enriched by their diverse personal histories. Born in Syria, Wassef lived in Beirut before moving to the US. Meanwhile, Racha, whose father is Syrian and mother is Iranian, grew up in London before relocating to the US as well where the couple met at university in Texas.
After graduating, Wassef began a career as an engineer for Microsoft moving to Abu Dhabi, Paris and numerous cities in the United States. But by 2010, he was ready to leave the tech world behind. Choosing to settle in Seattle, the couple decided to invest in their first restaurant: Mamnoon – meaning grateful in both Farsi and Arabic.
The restaurant's original mission was to make Levantine cuisine more familiar to the American public. Wassef and Racha were also looking for a way to stay connected to their roots, and they later saw the project as a way to help Syrian refugees.
Mamnoon was an immediate success. Casual, with room for 120 diners, it offers traditional recipes at a reasonable price – about $50 per person for dinner.
Wassef and Racha also added a takeaway counter at the front of the restaurant. "The energy of the street pours into the restaurant, which affects its image positively," Wassef explains.
Following this success, the couple launched Mamnoon Street in 2016, serving up to 350 portions of manakish, mezzes and shawarmas per day. They soon added Anar to their lineup, a vegetarian restaurant offering interpretations of Arab classics like mujadara, and Mbar, a rooftop venue with room for 250 people in the summertime the serves mezzes and seafood at between $35 to $50 per person.
Today, the Harouns restaurants employ 150 people and bring in about $8 million per year in revenue. With their eyes set on the future, Wassef and Racha are planning to expand, opening new projects in other American cities. As for Lebanon, for now they just want to keep coming back for inspiration.