Medical marijuana exports could generate $1 billion per year in revenue for the Lebanese state, according to outgoing Economy Minister Raed Khoury. It's an enticing prospect, but breaking into this growing and lucrative market could be more difficult than it seems.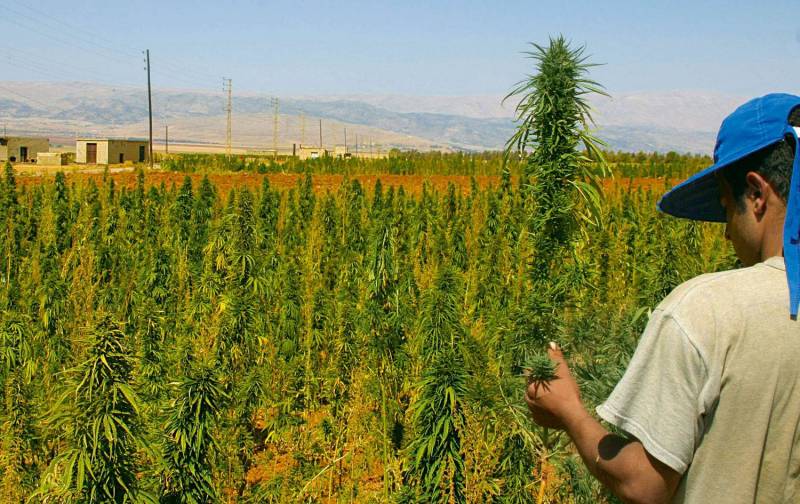 After years of failed repressive policies and unsuccessful attempts to develop alternative crops, Lebanon appears to be taking steps to legalize marijuana cultivation. Two rival legalization bills were introduced to parliament in July and September, one by Antoine Habchi, Lebanese Forces MP for Baalkbeck-Hermel, and the other by Speaker of the Parliament and Amal Movement leader Nabih Berry.
Both bills aim to legalize the growing of marijuana for medicinal, industrial and research purposes, but they take two different approaches. The bill introduced by Habchi proposes putting pharmaceutical companies into direct contact with producers in Lebanon while Berry's bill calls for the creation of a state controlled entity, similar to the La Régie libanaise des tabacs & tombacs, to manage the industry.

A parliamentary commission, headed by Amal's Yassine Jaber, has been set up to study how the laws could be implemented.
If Lebanon ends up adopting one of the two bills – or a hybrid version of the proposals – it would join the ranks of some 30 countries around the world that are trying to capture a slice of the emerging and lucrative medicinal marijuana market.
Searching for revenue
The legalization of marijuana production in Lebanon has been proposed before, most notably by Druze leader Walid Jumblatt. But concrete steps were only taken after US based consulting firm McKinsey & Company included the measure in a report prepared for the Lebanese government on how to revitalize the country's economy.
The proposal was one of around 150 initiatives put forward by McKinsey. In an interview with Bloomberg, outgoing Minister of Economy Raed Khoury said that medicinal marijuana exports could bring Lebanon $1 billion in revenue every year.
The money is badly needed to finance the country's public debt, which is one of the highest in the world at 150 percent of the GDP. The discussion of legalization comes as recreational marijuana use, outlawed in Lebanon, is showing signs of decline.
In its prime, the recreational marijuana in Lebanon accounted for at least $2 to $3 billion per year, with most of the profits going into the pockets of traffickers, according to Hassane Makhlouf, a professor at Lebanese University who researches drug trafficking in Lebanon.

"Hemp crops in Lebanon cover an area between 200,000 and 300,000 dunums (10 dunums are equivalent to one hectare). Each dunum produces between 1,000 and 2,000 kg of raw cannabis that can be transformed into 4 to 8 kg of pure resin," Makhlouf explains. "The army [has] given up on field destruction campaigns since the beginning of the war in Syria, and the increased pressure on the traffickers this year [has] generated large stocks of unsold product in the farms," says Said Gedeon, director of the Agriculture Department in Zahleh's Chamber of Commerce in the Bekaa, where most marijuana in Lebanon is grown.
Less demand for hashish
There is also less global demand for hashish now than there was in the past, in part due to changing drug preferences in Europe.
"In the 1980s, there was a lot of Lebanese hash in Amsterdam, but today it is out of fashion. Consumers prefer 'grass', also called 'marijuana', made of all the dried parts of the plant including the leaves. Its culture has increased significantly in Europe," says Michael Knodt, a German journalist focusing on cannabis culture in Europe.
Much of the marijuana currently being consumed in Europe comes from genetically modified plants that contain higher levels of tetrahydrocannabinol (THC), the main psychoactive compound in cannabis. As a result, 90 percent of the black and gray markets is dominated by marijuana, according to Knodt, while hashish accounts for just 10 percent.
Of this, the vast majority comes from Morocco, Knodt adds. Lebanese hashish, known as Lebanese red or gold depending on the time of year the harvest takes place, is now sold at the relatively low prices of $13 and $8 per gram respectively.
As a result, farmers are getting paid less than $400 per kilo as opposed to $1,000 to $2,000 during hashish's heyday.
Political opportunity
These changing fortunes have been one of the driving forces behind the debate on developing medicinal marijuana production in Lebanon.
Politicians see it as an opportunity to improve their image among people living in the Bekaa who clearly repudiated their traditional political representatives in recent municipal and legislative elections. In the 1960s, Lebanon tried to replace hemp farming, cultivated in the country since the Ottoman Empire, with sunflower farming.
Marijuana cultivation was only made illegal in Lebanon in the 20th century, and the effort to eradicate the crop was pushed for and financed by the American government. After years of failure, the debate has now shifted to legalization. The semi-arid climate and sunshine of the Bekaa Valley, where most of the production takes place, make it an ideal location for marijuana farming. "It is a plant that is very resistant to disease and water shortage and is inexpensive to grow," says Salem Darwich, head of the Lebanese University's Department of Agricultural Economics and co-author of a study on hashish cultivation in Morocco and Lebanon.
The question now is whether Lebanon's long experience with marijuana farming will translate into a new era of prosperity in the Bekaa.
The growing global market for medicinal marijuana offers a promising prospect. According to a study by Arcview and BDS Analytics, two US based market research firms, medicinal marijuana grew from a $3 billion industry in 2013 to nearly $7 billion in 2017.
The growth has been led by increasing recognition of the medicinal applications of THC and cannabidiol (CBD), two compounds found in the cannabis plant.
The US Food and Drug Administration (FDA) has acknowledged that cannabis, and its derivatives, can be used to prevent epileptic seizures, relieve certain types of neuropathic and chronic pain, stimulate the appetites of AIDS patients and reduce the nausea and vomiting caused by chemotherapy.
Roughly 30 US states have legalized medicinal marijuana.
Significant barriers
Despite the recent trend towards legalization, the medicinal marijuana market is strictly controlled and difficult to break into.
"The legal frameworks vary enormously from one state to another on this issue, and some remain very conservative," says Fadi El-Jardali, a professor in the faculty of health sciences at the American University of Beirut (AUB). France, where about 700,000 people daily use cannabis recreationally despite it being illegal, only allows two THC based medicines on the market: Marinol and Spasivex.
The first, derived from synthetic THC, will only be available to around 100 patients on a temporary basis. The second is intended for around 2,000 patients, but is not yet available because of a disagreement over its selling price.
Four potential customers
Considering the limitations, it's difficult to imagine where Lebanese-grown medicinal marijuana will fit into the market. Adding to the challenges, many of the countries that have legalized it are also producers, such as the US and Uruguay.
As a result, there are currently only four significant import markets around the world: Germany, Italy, the Czech Republic and Australia.
"Germany alone accounts for 90% of European imports, and here again the criteria are drastic," says Knodt, the cannabis culture writer. Germany's state Cannabis Agency requires growers to use certified seeds and for the plants to be cultivated in a secure space with an air filtration system.
"These installations, when they involve equipment such as artificial lighting, can cost between two to 10 million euros," says Knodt. "Even without artificial lighting, as Lebanon could do thanks to its climate, these facilities are still very expensive."
Furthermore, the medicinal marijuana market in Germany is already being serviced by the Netherlands, Canada and, soon, Israel, whose legislative authority adopted end of December a law that will allow exports, once approved by its cabinet ministers and Prime Minister Benjamin Netanyahu.
And Germany is expected to begin local production in 2021.
Morocco has responded to some of these challenges by importing seeds that are accepted in the European market. But the same model may not work in Lebanon.
"It is unlikely that farmers will take the risk of abandoning the local variety, which they can grow themselves," says Darwich, of Lebanese University.
In his proposed bill, Habchi proposes giving licenses to foreign pharmaceutical companies to let them figure out the complications, ranging from seed delivery to distribution, directly with farmers.
The bill calls for different seeds to be used with a higher CBD than THC content than crops currently being cultivated in Lebanon. It's still unclear if growing different strains would help or hurt Lebanon's effort to break into the medicinal marijuana market.
Lack of scientific research
So far, the medicinal benefits of Lebanese cannabis haven't been thoroughly studied, and Lebanese American University (LAU) is the only institution currently trying to carry out research on the subject.
"We got at the end of May a first authorization from the government to receive samples to begin our research," say Mohammad Mroueh, a professor of pharmaceutical sciences at LAU. LAU's study aims to test the anti-inflammatory properties of Lebanese cannabis oil and its effect on slowing the reproduction of cancer cells. But the study can't move forward until a new government is formed so it can approve the creation of a research center dedicated to medicinal marijuana. If the center is created, "it will be the first in the Arab world," Mroueh notes.
Even after the research starts, it will likely still take several years for the results of the study to come in. By way of comparison, it has been more than 50 years since the THC molecule was isolated by Israeli researchers Raphael Mechoulam and Yechiel Gaoni in 1964 and Israel only exported its first shipment of medicinal marijuana last November.
No matter what, there is still a long way to go before Lebanon will become a medicinal marijuana exporter. "Lebanon still has a lot of research to do in this area if it wants to have a chance to break through," says Knodt. "A first step could be be to legalize cannabis for therapeutic use locally to better understand the issues of the industry," he adds.
Otherwise, "these bills seem to be more like a political approach than a real strategy of agricultural and economic development," adds Gedeon, director of agriculture in Zahleh.