In under seven years, Rania Hoteit positioned her company, ID4A technologies into the top 5,000 of America's fastest growing private companies in 2018. This startling achievement represents validation for a Lebanese with big dreams.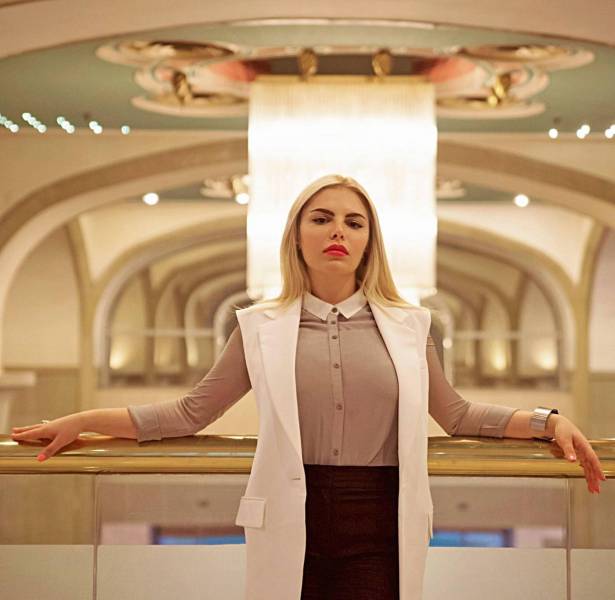 "When I arrived in the US, I only had 1000$ in my pocket, no set plan, no clear vision of the future and absolutely no idea how I would survive", says Hoteit. She knew no one in her new host country; no parent, friends or acquaintances could help her out.
Nevertheless, fifteen years later, and now in her 30's, the young woman who worked several student jobs to survive her first years in the US sits at the head of ID4A (Ideate, Design, Automate) Technologies.
Her field of work covers a wide variety of sectors. ID4A Technologies imagines, conceives and creates software solutions for robotic manufacturing and develops products from concept to manufacturing and distribution.
In January 2019, ID4A Technologies, a company of 265 employees was ranked 29th of 100 companies that have achieved significant impact in North America, according to the Real Leaders magazine.
The company is also one of 5,000 private companies with the quickest growth rate in the US, according to Inc Magazine.
With a growth rate of 327% between 2014 and 2017 and its 12.7-million-dollar turnover in 2018, ID4A shares the podium with companies as prestigious as Under Armour, Patagonia and Microsoft.
A hard worker
For Hoteit, this recognition represents "a dream come true"."It's a validation for all the hustle and hard work that our employees continue to do, and a great honor for me," she said.
Hoteit's story starts somewhere between temerity and rebellion. Rania is discreet about her childhood and teenage years, simply mentioning that her parents divorced.
"Before becoming the resilient leader I am today, I had to become a resilient child, growing up in Lebanon shaped my identity and influenced my trajectory in life," she said. As the interview goes on, you get the feeling that adversity and the challenges she faced have shaped her ambition. The young graduate of Beirut's Saint Elie School and Institution had to overcome many barriers, opportunities being rare for children from the middle class.
"I always had the taste of innovation and creation," Hoteit said.
To realize her dreams, Hoteit sought to study in the US, specifically at the Art Center College of Design, in Pasadena, California. "It was a logical decision, but the reasons behind it were complex and personal," she says. However, she very quickly became disillusioned. "I had an idealized vision of the US before I moved. Regardless of it being open to immigration at the time, it was a tough environment to come into especially being a student, a woman, and an immigrant," she says.
Hoteit recalls a meeting with a potential investor. Sitting down, one of the men asks her pointedly, "What's a sexy girl like you doing in San Francisco?" Hoteit didn't answer, she got up, leaving the room without presenting the project that got her the meeting. She preferred to look for other partners.
Determination from the start
For as long as she can remember, she always did exactly what she had in mind. "I've always had my own voice, a strong sense of my identity, and I carved my own path, without anyone's help," she says. Despite hard times, failure was not an option.
"Dropping out of college was not an option, because I wanted to obtain my higher education and fulfill my career ambitions."
Hoteit then started a Bachelor's of Environmental Design, then followed up with two Master's degrees, allowing her to refine her knowledge of the industrial environment. "There were no shortcuts but hard work, persistency and persistence to be where I am now," she said.
Hoteit doesn't wait until she's finished her studies. In 2007, she launches Anoxic Lab. This isn't a pet project, it's a fully functioning company.
Anoxic Lab focuses on researching innovative design for companies. She goes on to sell Anoxic in 2009, once its processes and pipeline are up, running and profitable.
She gets another degree and, in 2011, launches SKU, an online platform that relays information about the world of 3D printing.
"SKU also helped companies access 3D printers to speed up their manufacturing," said Hoteit. She went on to sell the company two years later. But SKU didn't seem to fulfill Hoteit and in parallel, in 2011, she launched ID4A Technologies.
Now present in nine cities in the US, the company, that relocated to the Silicon Valley in 2013, has clients as prestigious as NASA, Samsung and Walmart.
In 2014, Hoteit began looking abroad and chose to go back to the Middle East, to Dubai, where she worked on a project with the Ministry of Culture, Youth and local Development.
An Icon of Diversity
After becoming a bona fide entrepreneur, Hoteit was never completely satisfied and wanted to share her experience in order to help people and businesses; in the process she has become something of an icon of diversity, both in the US and in Lebanon since returning.
"A McKinsey study shows that companies that are more gender diverse are 21% more likely to outperform others. For those that are ethnically diverse, that number goes up to 33%. (…) McKinsey also found that 12 trillion dollars can be added to the global GDP by 2025 by advancing women's equality".
Hoteit is inspired by her own personal story in order to highlight and praise the journeys and accomplishments of migrants, the very same people that Donald Trump recently called invaders.
"Diversity is a key aspect to entrepreneurialism. It drives economic growth, captures a greater share of the consumer market, and fosters a more innovative and creative workplace," she says. It is a diverse, forward-thinking version of Lebanon and the United States that Hoteit is striving for.
A mentor in Lebanon
"Being raised in a multi-cultural environment and speaking three languages broadened my communications skills and contributed to my global leadership," says Hoteit.
For a few years now, she has wanted to give her mother country the benefits of her success and experiences. Currently she is collaborating with organizations whose goals are to empower the young generation, and is also supporting local start-ups.
Hoteit's goals are clear, she wants to "channel to the economic growth of Lebanon, and reduce migration among young people". Last June, she helped finalists of the international Hult Prize -the Heatech team- to enter the business world.
After success, Hoteit seems determined to give back and to become an icon for more than just diversity.
Bio express
2017 : Honored by the British parliament for her "outstanding achievements in her career and her contribution as a migrant woman in the USA"
2016 : Received the title of « Ambassador of the Year » by Blossom Wealth Management for propelling entrepreneurship and innovation
2016 : Recognized by the White House for fostering the development of advanced manufacturing in the US and in the world
2011-2013 : Founder and leader of SKU
Since 2011 : Founder and leader of ID4A Technologies
2011-2013 : Master of Architecture, Southern California Institute of Architecture, Los Angeles
2009-2011 : Master of Production Design, Art Center College of Design, Pasadena
2007-2010 : Founder and leader of Anoxic Lab 2005-2009 : Bachelor in Environmental Design, Art Center College of Design, Pasadena.