Founded by Wissam el-Hage, a trained physiotherapist, the Agonist café in Zalka hires people with Trisomy 21.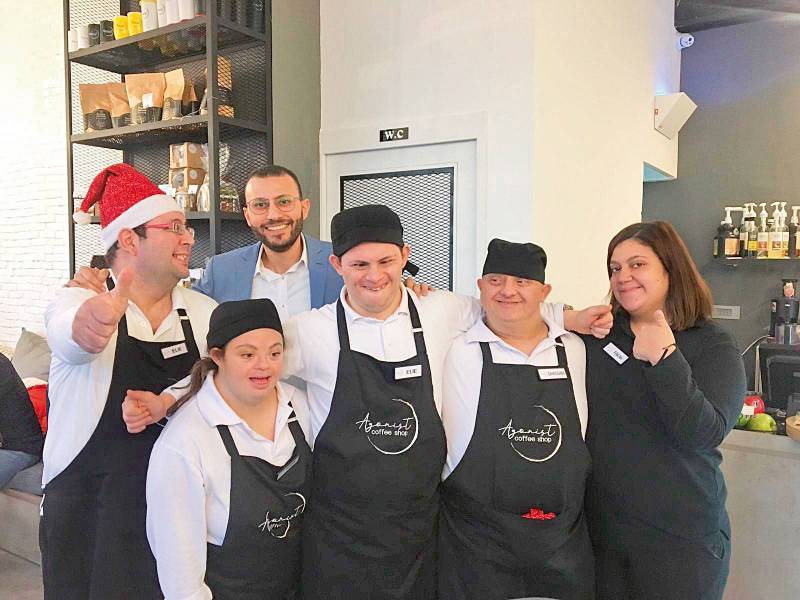 This article was originally published in French
Sitting amid the busy streets of Zalka's souk, the Agonist café with its drinks, muffins and diverse treats and snacks appears the same as any other cozy café in the city. Except that here, Elie, who meets clients with a tray on his shoulder, or Ghassan, who makes the coffee, both have trisomy 21, or Down syndrome.
At Agonist, 8 of the 10 employees have some form of developmental issue, a rate way above the 3% handicapped person's quota that Lebanese law makes compulsory for companies over 60 employees. Inaugurated on December 16th 2018, this is the first initiative of its kind in Lebanon.
The driving force behind it is Wissam el-Hage, 32 years old, and a graduate in physiotherapy. "In my job, I had the chance of spending a lot of time with handicapped people. Working with them made me realize how much their capacities were underestimated," he says. "That is how the idea of Agonist came up: there had to be a way to shed light on these people, especially in the professional world, to tear down all the clichés related to [the] handicap[ped]." Three months ago, the young physiotherapist decided to go for it. He took temporary leave from his job and contacted the Lebanese Down Syndrome Association, a parents' association whose children have Down syndrome, and the group supported the initiative.
A few minor adjustments
The project needed a few adjustments, for example, specific coffee capsules are used to make the employee's work a little easier, and there was a three-month training program before they started work.
Shifts are between three to eight hours, they vary according to the capability of each employee, and everyone is guided by a team leader. The recipe seems to work, according to Wissam el-Hage "Work can take a bit more time, but the clients' feedback is very positive".

"None of the employees [have] ever worked, and some are over 40 years-old!" the owner says a little sadly. "There are centers run by NGOs for handicapped people, but "the difference is that here, we offer them a "normal" job," he adds. "We want to show that handicapped people can work with others in all sectors with just [some] minimal adaptation". The demand is real, in just ten days; the café has received over 10 applications.
Fighting stereotypes
This is a significant project, as stereotypes about the handicapped as rife in Lebanon. The 3% quota is almost never respected, or companies apply it literally, employing the fewest possible handicapped people. "Companies hiring a few handicapped people always find them jobs far from clients," says el-Hage.
The image of handicapped people needs to be addressed. "We have heard about the refusal of certain restaurants, malls and public places to greet handicapped people, as if it would tarnish their reputation," he adds.
These prejudices also explain the financial hardships faced by people with developmental difficulties, as the founder and owner tell us. "I financed this project via a personal loan that I obtained after two-and-a-half years. A consultant even told me he couldn't evaluate the financial risk because it was so big. But that didn't stop me".
Since its' opening, the coffee shop is always very busy. According to the owner, "the dynamic is positive in two senses, the employees' capacities develop in contact to the clients, and the clients come in with a sense of curiosity and kindness".