Rana Yared, managing director in the Principal Strategic Investments team in the Securities Division at Goldman Sachs, is one of the bank's youngest partners and was chosen as one of the 15 most influential women under 40 in the banking industry by American Banker magazine.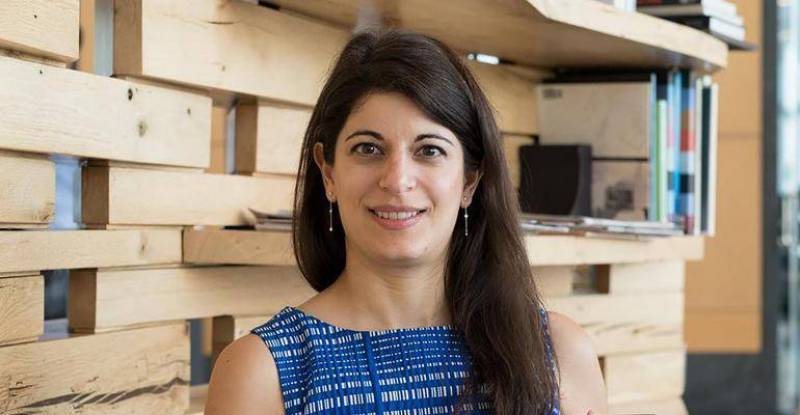 Owner of a small pastry shop: that is what Rana Yared said when she was asked in her job interview at Goldman Sachs where she saw herself in 10 years. "The interviewer looked at me like I was crazy and said, 'Join our team for two years, and we'll talk about your pastry shop later,'" she recalled.
Thirteen years later, she is now managing director in the Principal Strategic Investments team in the Securities Division at Goldman Sachs and, at age 35, one of the youngest associates at the bank. "I was very lucky," she said, humbly, when she greeted us in her office at the bank's headquarters in Manhattan's Financial District.
The young woman, who is of Lebanese origins, has been living in the United States with her family since the age of five, but she insisted on speaking in French. "She likes the challenge," one of her colleagues said.
It was no doubt her love for challenge that helped her earn two degrees from the University of Pennsylvania, one in international relations and the other in economics, then her first position as an analyst at Goldman Sachs in New York in 2006. Two years later, she joined the London office of the investment bank and pursued a master's degree in international relations, her "passion", at the London School of Economics and Political Science.
In 2013, she decided to return to New York for reasons she did not want to disclose. "That decision changed my career," she said. "I was offered a strategic investments position at the bank financing fintech start-ups, technology applied to finance, in Series A and Series B."
As Vice President, she has taken over an activity that existed within Goldman Sachs since 1999. To help her kickstart her position, Yared's employer provided her with a team of 22 people: 14 in New York and 8 in London. "A small team with a big impact," she remarked proudly.
To date, Goldman Sachs has injected funds into 76 start-ups worth a total of $1.5 billion. The profitability of these investments varies between 5 and 25 percent depending on the company, Yared said, as she currently sits on the board of seven start-ups (NAV, Nutmeg, Vestwell, Barefoot, LookingGlass, NYSHEX, SwapClear).
This means many trips, and many hours spent on planes between London, New York and San Francisco, home to Silicon Valley. But it also gives her great satisfaction. One of her biggest "prides" is Tradeweb, an international financial services company that went public (IPO) on the Nasdaq in April 2019. "We worked very hard for ten years to get to this point," Yared said. The public offering was a great success; the company raised $1.1 billion.
Kensho is another success story, offering artificial intelligence-powered financial analysis solutions. "It's a start-up that I discovered"
she said and sold, according to public reports, for $550 million in March 2018.
Beyond her ability to identify profitable deals, the bank also relies on her ability to judge and reflect about the technologies of tomorrow. One of the major topics she has been studying is cryptocurrencies. "As an investment and strategy team, we were asked to formulate Goldman Sachs' position on Bitcoin, so we spoke with hundreds of companies and experts," she said, not wishing to reveal further.
In late June, David Solomon, the CEO of Goldman Sachs, hinted to French daily Les Echos that his bank may follow in the footsteps of JP Morgan, which launched its own virtual currency in early 2019.
For Fortune magazine, Yared is one of the biggest players in blockchain and fintech under 40 years old.
"Being the first woman in this list is a source of pride for me," Yared said. "I also know that it is a responsibility and that, with my position and my attitude, I can inspire young girls… Women, in general, think that they have to be irreproachable to take a position or master a subject perfectly before being able to give their opinion, which often slows them down in speaking at meetings," she added. "We must trust in ourselves, in what we know, and not be afraid to express ourselves."
Although she is discrete by nature, Yared was noticed by the American press. In 2019, American Banker magazine selected her as one of the 15 most powerfull women under 40 in banking. "Our public relations department is excellent," she said, laughing to justify her success, before acknowledging more seriously that she has "worked very hard."
For her, work is the key for success, but she does not forget the purpose. "In the business world, we sometimes tend to overshadow the impact that our actions can have on citizens and individuals. Our clients include insurance companies or pension funds on which thousands of people depend. We need to be aware of the impact of our work on people."