Health officials in Lebanon are stepping up efforts to contain the coronavirus pandemic. While the virus's spread appears to be under control so far, its evolution remains uncertain, especially since the health sector has been impacted for months by the economic crisis.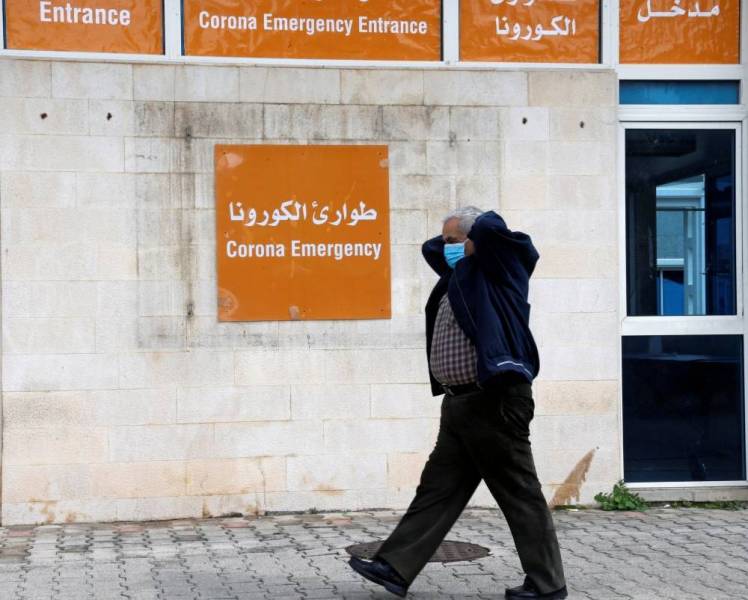 As the coronavirus pandemic reaches stage 2 and continues to spread in Lebanon, with 149 cases of Covid-19 reported to date, authorities are intensifying containment measures. Following the closure of schools and universities, the government asked bars, restaurants, nightclubs, museums, shopping malls and large sports halls to shut their doors as well.
On Wednesday night March 18, it was the turn of the Beirut Rafic Hariri International Airport to shut down as Lebanon went into lockdown. "It was the first thing that should have been done to limit the spread of the virus," said epidemiologist Salim Adib from the American University of Beirut (AUB). Nevertheless, he offered reassurance about the progress of the situation: "People stopped interacting, which was not the case in the first few weeks of the virus. This reduces the risk of spread."
The stakes are high: it is a question of avoiding at all costs a pandemic peak which could jeopardize the entire Lebanese health system.
Effective Healthcare
For now, patient care is operating efficiently. An agreement was reached between the health authorities and the Red Cross that allows the transfer of people suspected of carrying coronavirus to the hospital. "We have dedicated 19 Red Cross centers for this mission and have trained 300 paramedics to be able to transfer the patients," said Dr Antoine Zoghbi, President of the Lebanese Red Cross.
His teams have been rushing to the government-run Rafic Hariri University Hospital all suspected cases, even the mild ones.
Although under pressure, the public hospital has not reached full capacity yet. "For the moment, we are doing well, we can still take in patients and we still have stocks of medical equipment and medicines," said Doctor Mahmoud Hassoun, head of the "corona" unit at the hospital, which is also increasing its capacity to care for serious cases. "From four beds equipped with ventilators for patients in need of respiratory assistance, we reached twelve," said Hassoun.
But the rapid increase in the number of patients seems inevitable, currently increasing at the rate of 12 to 15% on average every day.
According to widely accepted figures, around 10% of people affected with coronavirus develop a condition that requires hospitalization and "only 5% of them require respiratory aid," according to Salim Adib of AUB.
But relative to the size of the general population, these numbers are chilling. Based on statistics from China's epidemiological study, the contamination rate can range from 25% to 70% of the population. With an estimated 5 million inhabitants, Lebanon risks ending up with 1.2 to 3.5 million people getting infected with the virus. If 25% of the population is contaminated, 62,000 individuals may need to be placed on ventilators based on lower estimates and 175,000 according to the higher estimates (70%). The country could register an increase of mortality of between 6,250 to 70,000 people.
Adib, however, indicated that these calculations are irrelevant. "We are not China, Iran, or Italy. Our population is young and has good immunity." In fact, according to UN figures dating back to 2018, 12.3% of the population in Lebanon is over 60 years while 80% of the deaths recorded to date worldwide are in this age group. Another reassuring argument is the quality of Lebanese hospital services, which rivals that of European countries such as Portugal and Estonia, according to The Lancet medical journal.
The sector still has to continue operating properly. With 15,000 beds across the country, the sector could make available some 500 beds equipped with ventilators, said the head of the health committee and Member of Parliament from the Future Movement, Assem Araji. However, according to various reports, three-quarters of this equipment is not actually available or requires repairs.
Last week, the Council of Ministers approved $ 40 million in funding from the World Bank allocated to government hospitals as part of the "Health resilience project." The goal is to support hospitals already mobilized to fight Covid-19 to purchase equipment, and to equip nine new public establishments in different Lebanese regions.
Two government medical centers could also be adapted to serve as back-up, according to Araji. The World Health Organization (WHO) is currently checking these facilities to determine whether or not they will be able to receive and treat Coronavirus patients.
Private Hospitals
At the same time, the government has asked private hospitals, which account for 82% of the hospital sector in Lebanon, to be ready. At the Hôtel-Dieu de France, a treatment center is now operational. "It is necessary that the flow of patients suspected of carrying coronavirus arrive to very distinct places," said Martine Orio, director general of the hospital. At HDF only 20 of the 40 beds are currently used.
For cases suffering complications, five beds are available today in isolation, but "others may then be made available."
The Lebanese American University Medical Center - Rizk Hospital (LAUMC-RH) has launched the same preparations and is now ready to receive patients.
For cases requiring hospitalization, seventeen beds could be made available to accommodate seriously ill Covid-19 patients. But for now, this is a last resort solution. "We are working hand in hand with the Bouar public hospital in Jounieh region, helping to train their staff. If this hospital is declared suitable for receiving coronavirus patients, the cases we receive will be transferred to them," said Sami Rizk, the hospital's director-general. "This is the most favorable solution because our occupancy rate is already high. Freeing up a floor for coronavirus cases is big ask, but we will do it if the situation requires."
Apprehensions persist
Across the country, medical teams are holding crisis meetings to prepare for a large influx of patients. However, widespread apprehensions persist, in particular due to the length of hospitalization for the most serious cases. "Our concern is mainly for people in need of respiratory assistance," said Dr. Hassoun at the Rafic Hariri University Hospital. "On average, in the case of coronavirus, it takes two weeks of hospitalization [against a few days for pneumonia, for example, editor's note] which means that once we have filled our twelve equipped beds, we will no longer be able to admit critically ill patients for two weeks."
Hospital officials are also concerned about the risk of running out of some needed equipment and supplies. "We are afraid of seeing our stocks of masks and gloves decrease," said Martine Orio of Hôpital-Dieu de France.
Protective equipment is not produced in Lebanon. Importing them is very difficult due to the economic crisis. Although local distributors have reached an agreement with the authorities at the end of 2019 for their needs to be governed by the same subsidy mechanism applied to medicines, wheat and petrol (by up to 85% of the amounts), such an agreement is still problematic.
"In practice, it takes time for commercial banks and the Central Bank to review the files. So we are accumulating arrears of payments to our suppliers. Worse still: since the Prime Minister announced that the Eurobonds would not be paid, foreign suppliers have asked us to pay them in advance. It's impossible for us," lamented Rony Abdelhay, who runs Promedic, a company specialized in importing medical equipment.
The Central Bank has thus urged banks to speed up their procedures, but in the meantime, stocks are running low. "Normally, Lebanon spends nearly 15 million dollars each six months on disposable protection gear used in hospitals. Since October, we have only been able to spend $4 million on these products, "said the importer.
Orio stressed the importance of limiting panic which worsens the situation. "People are buying masks when these are only useful for those in contact with the sick or the sick themselves. A person who does not have the virus has no reason to wear a mask."
The Lebanese Red Cross, whose protection stocks are provided as humanitarian aid by the international organization's other branches is also concerned. For each intervention, the total cost of protection for the three paramedics mobilized is $1,800. "We are thinking of reducing the number of stretcher bearers per intervention to limit expenses," said Dr. Zoghbi.
But there is an additional financial factor. The cost of a day of hospitalization, in cases where the use of a respiratory system is necessary, is around 1000 dollars. At the rate of two weeks per person, the slate could amount to billions of dollars for a state already in a dire financial situation.
How will the Health Ministry pay these hospital costs, knowing that its budget has been cut by 7% this year, while it has to take care of those who have no health insurance - almost half of the population? Already, the state owes $ 1.3 billion - at the official exchange rate - to the private hospital sector.
For the director of LAUMC-RH, the financial question must be put on the back burner for now. "We treat the sick first, then we'll see," said Rizk.