Massive testing, tracing and maintaining social distancing. These seems to be the conditions for lifting the Covid-19 restrictions. In Lebanon, where the number of cases is increasing again, the government has re-imposed a four days lockdown to assess the situation.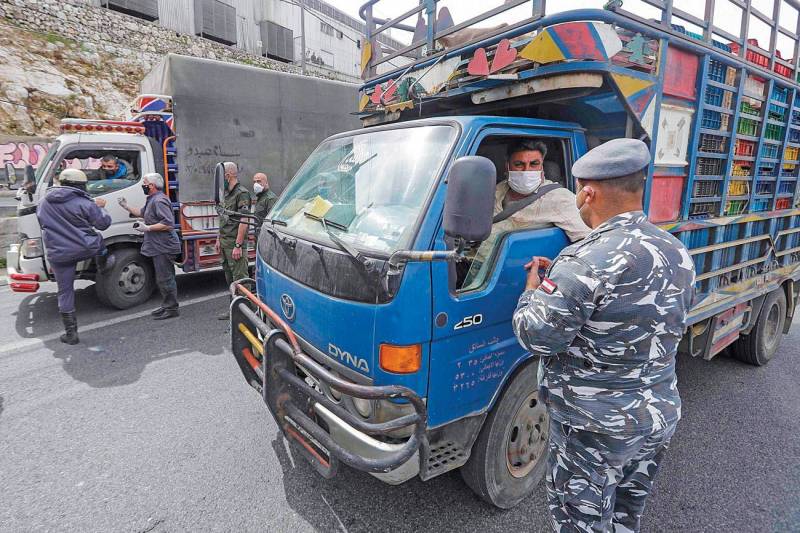 From a healthcare point of view, maintaining a strict confinement would have made sense. In fact, many experts predicted a resurgence of cases when the country opened up.
"With (the fasting month of) Ramadan, there is some danger: the epidemiological curve may rise again as many families seek to gather," said Inaya Ezzedine, member of parliament for Amal Movement and founder of a medical laboratory.
But in a country in recession, where public aid to curb the economic consequences of Covid-19 is almost non-existent, the urgency was also economic. Each week of quarantine represents an estimated $100 million in additional losses.
Shops, restaurants and hair salons had been allowed to re-open progressively starting April 27. Malls and universities were supposed to follow. But the country witnessed a spike of infections last week, with more than 100 new infections recorded in only few days.
This rise has partly been attributed to infected expatriates arriving from overseas on repatriation flights. On May 7, for instance, 25 Lebanese citizens who boarded an inbound flight from Nigeria were tested positive. "In one of the new clusters, discovered in the north of the country, one man coming back from Nigeria was responsible for more than 20 new contaminations, because he didn't took social distancing measures seriously", explained Firas Abiad, head of Rafik Hariri University Hospital.
Heading the Council of minister, Hassane Diab accused some citizen of "negligence and lack of responsibility" for ignoring guidelines on social distancing.
Therefore, almost two weeks after it appeared to have contained the spread of the virus, the government decided to re-impose restrictions. Authorities ordered a four-day, near-complete lockdown - excluding the health, agriculture, food and manufacturing industries –to assess the situation, and create "a psychological choc", according to Firas Abiad. "Health ministry believes four days will be enough to test, trace and isolate positive cases", he said.
"It's important to keep a strict epidemiological surveillance to limit the risks of a new wave of contaminations, pending the arrival of a vaccine or a sufficient increase in herd immunity," added Firas Abiad.
Herd Immunity
In the absence of a vaccine, only people who have been sick, have defeated the virus called SARS-CoV-2 and have developed the antibodies needed for their protection, are in theory immune. This is called natural immunity. In a given group, researchers estimate that 60-70% of individuals must develop natural immunity against the coronavirus to no longer fear large-scale spread. But to date, herd immunity is "probably still quite low," according to public health issues specialists at Saint Joseph University (USJ), Michele Kosremelli Asmar and Ibrahim Bou Orm.
Add to this the absence of scientific certainties that cured people will not relapse. "The evidence is not clear yet. In a recent study from China scientists found low antibody levels in about 30% of patients who recovered from COVID-19, which suggests that there may be a risk of reinfection. However, it is important to note that there haven't been reports of reinfections yet, and the evidence on this particular aspect of COVID-19 is not clear yet; time and science will tell," said Fatima al-Sayah, an epidemiologist and research manager in the School of Public Health at the University of Alberta, Canada.
To avoid prolonging strict confinement, which is highly damaging to the economy, most countries have relied in their strategies on three elements: mass testing, isolation of infected people and tracing their contacts.
"The only way to get out of the lockdown is to do massive testing. Without that, it is very risky to lift the lockdown, as the extent of community transmission would not be clear. It only takes one infected person who does not comply with social distancing and containment measures to start a new outbreak. Such person could have very mild symptoms that could even go unnoticed or be mistaken for a common flu. Evidence suggests that asymptomatic individuals who test positive can still infect others while their bodies are shedding the virus. Mass testing is intended to capture those infected individuals with little or no symptoms, or before they develop symptoms," added Fatima al-Sayah.
Mass Screening
A widespread testing campaign is the only way to identify infected individuals, knowing that 80% of patients have mild symptoms or are even asymptomatic, even though they are infectious.
This strategy has been deployed, in particular, by South Korea, regarded as one of the continent's top success stories. But even Seoul was forced few days ago to rescind a go-ahead for bars and clubs to reopen after a spike in cases.
Untill now, Lebanon had carried out a limited number of polymerase chain reaction (PCR) tests. In the absence of a sufficient number of screening kits, the authorities were first forced to restrict their access to only patients with fairly severe symptoms of the disease. Just over 54,694 tests were conducted, or 8.013 tests per million inhabitants (of an estimated population of 6 million), according to information compiled by Worlddometers.com by May 14.
While health authorities have been increasing random screening in recent weeks, we are far from reaching the testing rates of countries like South Korea, which has carried out 13,877 tests per million inhabitants. In the United Arab Emirates, some 1,500,000 tests have been carried out so far, or about 151,662 per million people.
Ideally, in Lebanon, "it would be necessary to quadruple the number of tests carried out," said Lilian Ghandour, an epidemiologist and associate professor in the Faculty of Health Sciences at the American University of Beirut (AUB).
According to al-Sayah, the number of infected people may actually be three to five times higher than the official figures. For one thing, it is because some patients do not report themselves, either for economic reasons or because they distrust the system, not to mention asymptomatic patients, who account for about 22% of the people tested positive in Lebanon.
For another, not all cases are reported to the authorities. "Some private medical laboratories that perform the tests have not registered with the Health Ministry and therefore do not report the results of their clients. For me, it would have been better to keep screening in government institutions alone: this would have allowed a safer case tracking," Ezzedine said.
Even more worrying is the fact that the vector of contamination remains unknown in 8% of Lebanon's cases. "This suggests that targeted testing is no longer sufficient to capture as many cases as possible, and this is why mass random testing is very important. As long as we have unidentified cases in the community, which do not comply with home isolation, because these individuals need to leave their houses to work or for any other reasons, there will be a continuous spread of the infection throughout the community," al-Sayah said.
Things may change in the coming weeks: Lebanon received 30,000 PCR kits offered by China and is poised to receive a donation of another 100,000 kits from the World Health Organization (WHO), that would allow the country to launch a massive testing campaign. The campaign will initially target areas where the disease is still poorly mapped, mainly rural areas, such as the Bekaa and Akkar, before being applied nationwide. "Increasing testing capacity is extremely important to quantify the size of the outbreak, evaluate whether the measures taken have made any impact, and plan next steps", added al-Sayah.
Serological Tests
Will nationwide screening be sufficient? Not sure. Several epidemiologists propose, in addition, to conduct more targeted campaigns, focusing, for example, on specific groups such as older people with chronic diseases. "Pooled testing" gives a reasonably accurate idea of infection and immunity levels in targeted groups.
Lebanon may also consider importing quick serological tests, which determine from a simple blood test whether a person has been exposed to SARS-CoV-2 and has developed an immune response. So far, some 100 companies around the world, mostly Chinese, are developing these tests.
"The government is being pressured to decide to import them. But the international pharmaceutical companies are still working on prototypes, and for the moment many diagnostic failures have been reported. Also, WHO is yet to issue a recommendation. These tests do not meet the same needs as PCR tests, that detect the coronavirus' genetic code. In my view, they should be part of a patient triage strategy to avoid bottlenecks in laboratories. These tests can also be used as part of epidemiological surveillance when we get over this wave. For the time being, this seems premature," Ezzedine said.
Patients' Contact History
The second pillar of a progressive deconfinement strategy is to trace the history of patients' contacts and their movements. The idea is to track the patient's recent contact chain to find people to whom he may have transmitted the virus, in order to screen or isolate them as a precaution. It is this type of investigation that has allowed, for example, to largely limit Ebola's spread in Africa.
"Testing on its own is useless," the assistant minister of health and social welfare in Liberia, Tolbert Nyenswah, told The Washington Post. Nyenswah had carried out a successful campaign to track contacts in his country while Africa was suffering from the Ebola outbreak between 2014 and 2016, recruiting 4,000 employees to update the contact map of positive cases . "It (testing) only tells you who already has the virus. Similarly, tracing alone is useless if you don't place those you find into quarantine. But when all three are implemented, the chain of transmission can be shattered", he added.
The Lebanese Public Health Ministry managed to do so when the first batch of Lebanese expatriates arrived in the country. They were all tested and monitored by the ministry, who collected their data and made them fill a daily form about their physical and psychological health, and their social conditions.
"The information we collect is confidential. Some agreed to use geolocation, while others rejected it on the grounds of individual freedoms. Geolocation is now optional, and they are free to use it or not," said Lina Abu Mrad, director of the Digital Health Department at the Health Ministry.
But the following wave of repatriation didn't do so well. "I do not think the return of Lebanese from abroad should be stopped,"said Firas Abiad, "but it could be postponed, giving time to adjust and assess the program".
Digital Tracing
To move faster, some countries have relied on e-contact-tracing, particularly Asian countries. In China, the authorities combined the vast state surveillance apparatus, with the cellphone data to track the movements of Chinese citizens.
In Taiwan, the government has also established a "virtual fence" to better "cordon off" quarantine areas. This digital tool alerts the authorities if residents try to leave the area or simply turn off their phones. In the United States, at least 20 companies are reportedly developing digital tracing tools.
In Lebanon, the use of digital tools is also expanding. The Health Ministry has created several mobile applications including a WhatsApp chatbot which provide the general public with all information on the disease, its prevention and its evolution. About 150,000 people have already connected to it. The ministry also launched a "Covid-19 Symptom Checker," available on the ministry's website as well as on Android or iOS platforms. It attracted 45,000 unique users. "A whole community is trying to develop technological solutions: young engineers and Lebanese and international companies are volunteering to help us," Abu Mrad said "We are currently working our own solution, which will be based on GPS and Bluetooth technologies, to implement widespread traceability".
Wearing Masks
In light of the spike in new coronavirus cases, social distancing and "barrier gestures" are likely to continue for a long time, at least until a vaccine arrives and wearing masks becomes widespread. Many countries now impose wearing masks on entire populations, including fabric masks if medical ones are not available, even if their effectiveness has not been demonstrated. Lebanon has also made masks mandatory as soon as anyone goes out on the streets. For industrialists, who have joined the battle for producing masks so that both the general public and health professionals are not dependent on lacking foreign supply, this is good news.
The difference between PCR and serological tests
At the moment, only polymerase chain reaction (PCR) tests are being carried out in Lebanon. Based on the detection of the coronavirus' genetic code, the test reveals whether a patient is infected with the virus at the time it is performed. A mucus sample, most often taken from the upper nose, is collected and analyzed in a laboratory. If the virus is present, the test is positive. Even with "false negatives," this test is quite reliable. It takes an average of 24 hours in Lebanon to know the result. Free in government hospitals (it costs the Health Ministry about $40 per unit), it is paid in private laboratories and costs LL 150,000.
The serological test detects the antibodies produced by a person who has already been infected. This method, which requires a blood test, would identify individuals who have contracted the disease, even if they have not developed symptoms, and hence may have developed immunity. Some 100 laboratories around the world are working to validate this test, but the results are not yet considered reliable. In Lebanon, this test is not yet recognized. "Interpreting these results can be problematic and can generate a large number of false positives or false negatives," said Inaya Ezzedine, member of parliament for Amal Movement and founder of a medical laboratory.
Many countries are also developing rapid serological tests, which may detect exposure within minutes by using a droplet of blood on a test strip.
In the United States, where Abbott Laboratories wants to bring these tests to market quickly, the Food and Drug Administration allows them only on an "exceptional" basis. These tests will be first used to test the nursing staff and people at risk.