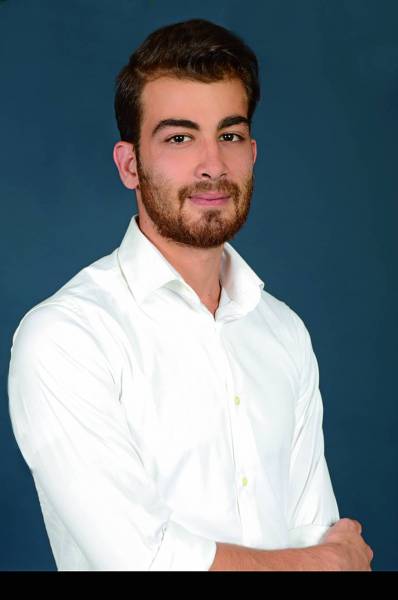 As a young boy, Wassim Hariri used to love taking his toys apart, "I wanted to understand what was inside, how it worked," he remembers. This was a passion that never left him.
Passion turned into a career at the end of 2018, when Hariri associated himself with Abbas Sidawi, a PhD candidate in robotics at the American University of Beirut.
Together, they launched Revotonix, the first Lebanese company to specialize in robotics.
The company focuses on the advertising and entertainment sectors, and is located in Saida, Hariri's hometown.
The company was launched using private funds with the help of an angel investor - whose name Hariri is keeping to himself - with an amount totaling 50,000 dollars.
Felix, Revotonix's first product, should be on the market before April. This mobile robot has a camera and two programmable screens.
Felix is intended to be used in highly populated areas like airports or malls, where the robot will display ads on its screens. It will be able to recognize the people it meets and will offer targeted advertisements tailored to the people in the area.
"One of the biggest challenges of the advertising sector is the collection of datas. In order to fix a price, we need to know how many people saw the ad," explains Hariri , who intends to sell this data to finance Revotonix.
However, the major financing source for Revotonix will be the rental fees paid on the robots by client companies, though prices have yet to be decided. "Our robot could even use virtual reality," he adds. Hariri's goal seems quite ambitious.
But at 25 years old, he has been working hard to get to where he is.
At the Hariri Canadian University of Saida, from where he received his Bachelor's degree, he chose to specialize in mecatronics, a technology that combines mechanics, electronics, computing and new technologies.
It was in Saida that he developed his passion for robots, but he assures he doesn't fear that robots would replace man. "They 're helping humans improve their skills".
International experience
But, there was a problem: to become an important robotics engineer, he had to move abroad. "In this field, Europe is the hub in terms of robotic research: that was where I wanted to be" he says. But his father didn't view his desire to move away in a favorable light. It was his mother, who had always supported him, who took out a loan and financed his studies abroad.
Accepted into the University of Turin in Italy, Wassim took on a Master's degree. He prepared his thesis, which was presented in 2018. In parallel, he took classes from the University of California, UCLA, to complete a long-distance MBA.
To complete his research and graduate, Hariri needed to undertake a practical internship. The student sent out 40 letters to specialized companies all over the world. One answered, In Systems Automation, in Berlin.
It was his only chance, he didn't hesitate. Quickly this German start-up put him on an ambitious project: the programming of a robot that would manufacture passports and driver's licenses for the German State.
"I got to my office, and saw this huge machine of 120kg and I thought "I will never be able to control this"," he said.
Three months later, he had learnt to and was offered his first job before he had even finished his thesis.
His German boss pushed him to create his own robots. The first one was called Sasha: it delivers meals to hospital rooms all on its own.
At the start of 2018, Sasha won the prestigious Global Innovation Through Science and Technology competition in America.
In Systems Automation invited him to stay on as an employee with a team to help him develop his invention. His role? To open new international markets for his German employers. Eventually, he would make the decision to resign and head out on his own.
This article was first published in French